We are carrying out our business activities with this desire to "deliver delicious bread!" to everyone in Hokkaido.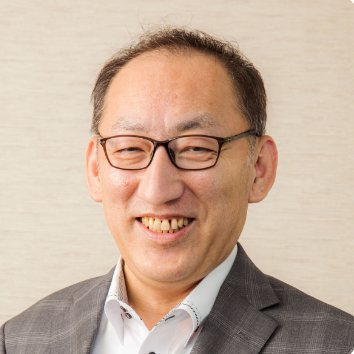 Chief Executive Officer Kiyoshi Kitajima
In 1991, we began operations at two in-store bakeries.
Aiming to become a bakery closest to our customers' lives,
"We offer delicious bread that has been freshly baked with ""my vow"" in our heart."
Currently, in order for each store to be a bakery needed by local customers, we operate stores under three brands throughout Hokkaido, and welcome our customers with "vigorous greetings with quality, freshness, product lineup, and smiling faces."

There are many delicious foods in Hokkaido.
Accordingly, with its business base in Hokkaido, we keep relationships with various parts of Hokkaido, and also intend to work to revitalize local communities.
I want my colleagues who work with me to realize "Making bread is fun! Working is fun!"
In addition, I think "Each person thinks and acts, and verifies the results." This is the point, and I hope that even if they fail, they learn from it, act, and grow.
We have a lot of colleagues, each with its own personality and ideas, and that's big treasure.
I hope that they will continue to make many proposals and participate more and more in the future.
In addition, we will foster a workplace environment that facilitates the exchange of opinions between stores, headquarters, and management, and make it a company that encourages everyone to move toward the vision.
We will continue to engage in business activities that are supported by stakeholders based on community-based store operations.

Company Overview
Company Name

L'air bon inc.

Representative

Kiyoshi Kitajima

Head Office

11-2-43 Hassamu 8-jo, Nishi-ku, Sapporo-shi, Hokkaido

Year of Establishment

1991

Capital Stock

30 million yen

Ownership

100%

Primary business

We operate bakeries such as "L'airbon", "Cent Varie", and "Otaru Saint-Germain" at supermarkets throughout Hokkaido.

History

May 1991

Established Nichiro Baker's Co., Ltd.wholly owned by Nichiro Corporation.
Launched operations at two in-store bakeries.

June 2004

Began operating of Saint-Germain Hokkaido Business Division, at 37 stores as a result of the business transfer.

November 2006

Spun off Hokkaido Division from Saint-Germain Co., Ltd. to establish Hokkaido Saint-Germain Co., Ltd. as a 100% subsidiary of Saint-Germain Co., Ltd.


December 2008

Opened a "meal store" with a café facility.

August 2009

Opened a new shop in JR Kushiro, the first outlet on the premises of JR Station.

April 2012

Opened "Otaru Saint-Germain" in JR Otaru Station.


October 2012

Opened "Cent Varie" Nishi-Obihiro, the first 100-yen bakery.

September 2015

Opened its first "Cent Varie" Yayoi store in a home center.

September 2023

Company name changed to L'air bon inc.

Became a wholly owned subsidiary of create restaurants holdings inc.

Reached 68 stores in Hokkaido.