The Create Restaurants Group plans and develops, and operates a broad range of restaurants such as casual food courts, izakaya and dinner-type restaurants and bakery, in line with location characteristics and customer attributes. We also focus on the contracted (contract operation) business, accept the consignment and operate the restaurants in golf courses and in leisure facilities.
Restaurant Business
The create restaurants group operates a broad range of restaurants encompassing Japanese, Western, Chinese and ethnic cuisines. Our major brands include Shabu Sai, which offers safe, high-quality beef, pork and fresh seasonal vegetables in an all-you-can-eat style, MACCHA HOUSE, which offers maccha drinks using maccha from the long established Morihan of Kyoto and sweets, PRECIOUS BUFFET, which offers Western, Japanese, Chinese cuisines and sweets in a buffet style, Kagonoya, a Japanese restaurant that can be utilized for a variety of food scenes such as daily meals, celebratory occasions and memorial services Hina-Sushi, an upscale all-you-can–eat sushi restaurant where you can eat as much authentic high-end sushi as you like, RIO GRANDE GRILL, where you can enjoy Churrasco, a representative barbecue dish of Brazil, along with a wide variety of salad bars, "Nan Xiang Mantou Dian" a long-established restaurant that boasts of being the most well-known restaurant in Shanghai specializing in xiaolongbao, "Icchou", where you can enjoy Japanese cuisine in an overwhelmingly ryotei-like architecture, "TANTO TANTO", an authentic Italian restaurant that utilizes select ingredients, "Yasai-ya Mei", which serves select vegetables delivered every day from contract farmers all over Japan, "Yuzuru", a long-established sesame noodle restaurant with a history of more than 50 years, and "Hainan Jifan Shokudo," which serves Singapore's national dish, "Hainan Chicken Rice".
Izakaya Business
The izakaya brands that create restaurants group operates all have unique specialties. Typical brands include Isomaru Suisan, where you can enjoy the feel of a seaside restaurant in the city, Omotenashi Toriyoshi, specializing in chicken dishes such as chicken wing kara-age, Gonogo, a popular bar, and more.
Bakery Business
The bakery business includes "Saint-Germain" and "L'air bon", which offer a wide range of products that can be enjoyed by people of all ages, the bakery & cafe "JEAN FRANÇOIS", which inherits the skills and spirits of Jean-François Lemercier, MOF awarded chef, and "Bread & Coffee IKEDAYAMA," which serves house made bread and house roasted coffee, etc.
Ramen / Food Court Business
The ramen business includes Tsukemen TETSU, which is considered as one of the pioneers of the era of tsukemen, and Kimihan, the Chinese noodle specialty brand, etc. The tsukemen soup is prepared by combining fish stock (including the umami from dried sardine, bonito, mackerel) with Tonkotsu and chicken stock soup boiled in high temperature. You can enjoy a rich flavor without the lingering aftertaste.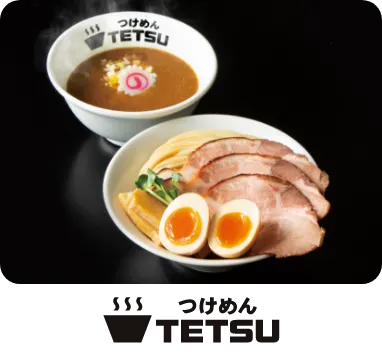 In food court business, we serve specialized food categories such as bibimbap, pasta, rice-omelet and dessert categories like pancakes and crepes. Our food courts are differentiated by utilizing the know-how we have developed through our restaurant business. We also focus on bulk-operation of food courts, wherein we operate all of the booths, by applying our strength in operating a wide variety of food court booths.
We ensures an efficient operation as well as a unified atmosphere and apply our know-how to projects such as Marche de metro within Echika Omotesando inside Omotesando Station, the Food Bazaar Gotemba within Gotemba Premium Outlet, and HIBIYA FOOD HALL inside Tokyo Midtown Hibiya, etc.
Highway rest area Business
The Create Restaurants Group leverages the concept development capabilities and outlet operation capabilities cultivated through our diverse restaurant operations to develop restaurants and food courts in the highway rest areas.
Contract Business
The Create Restaurants Group operates restaurants under consignment from cultural and recreational facilities such as golf courses, baseball stadium, aquarium and art museums throughout the country.
By leveraging our Group's unique menu development capabilities and operational capabilities developed through the operation of various concepts nationwide, we provide a diverse menu that meets the demands of our clients.
Among the contracted business, restaurant operations within golf courses boast one of the highest number of consignments in Japan. By addressing the various needs and conditions of each golf course, we are building trust and stable relationships with our clients. We are able to reduce the burden on the golf course operators through our abundant operating experiences and know-how.
In addition, the Company is entrusted by the National Federation of Agricultural Cooperative Associations (ZEN-NOH) to operate the restaurant and the cafe where customers can enjoy a menu with locally produced seasonal ingredients.