Taking Hokkaido born "Sesame Soba Noodles" to the national stage.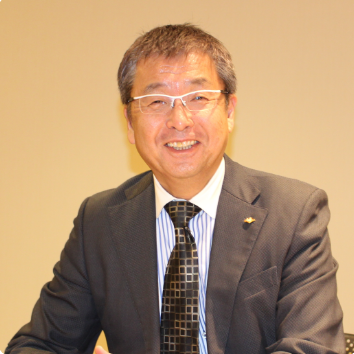 Chief Executive Officer Tsuyoshi Hashimoto
Our company was founded in 1968 as a noodle manufacturer in Sapporo. Over the years, with the emergence of large supermarket, Japan has entered into a period marked by mass production and mass consumption from individual retail shops where products are sold face-to-face. At the time, in order to avoid food spoilage and financial loss associated with it, it became common practice to incorporate many food additives to pursue profits. Rather than doing so, we had a desire to provide customers with products made directly by ourselves, thus we started a restaurant business. We chose "Sesame Soba Noodles (Goma Soba in Japanese)" for our merchandise, which was rare even in Sapporo and couldn't be found anywhere else in Japan at that time. Since then, we have been providing the additive-free noodle, which has become common nowadays. Our Sesame Soba Noodles are made at a factory, delivered to each restaurant twice a day and served fresh to our customers.
Many of our customers visit our restaurants every day. Even some customers visit twice a day at lunch and at dinner time. When I hear that customers saying "I came back" or "I will come back tomorrow", I feel so glad to be in the restaurant business. I have many colleagues who feel the same way as how I feel.
We think Employee Satisfaction is equivalent to Customer Satisfaction. We continue to aim at creating a corporate culture where each and every employee feels happy and rewarded by pleasing customers. In order to ensure security and safety that meet customers' need and to pursue genuine quality, we are willing to go the extra mile. Our dream is to have people all over Japan enjoy our authentic Sesame Soba Noodles originally from Hokkaido.
Company Overview
Company Name

YUZURU Inc.

Representative

Tsuyoshi Hashimoto

Head Office

5-5, Misono 2-jo 6-chome, Toyohira-ku, Sapporo-shi, Hokkaido

Year of Establishment

1968

Capital Stock

10 million yen

Ownership

100%

Primary business

Operate Sesame Soba Noodles YUZURU

History

April 1968

Establish Hashimoto Seimen in Higashi Sapporo, Sapporo

Jun 1975

Establish "Hashimoto" as a corporation

July 1975

Open the first "Goma soba Tsuruki" Store at central building in Main Street

February 1987

Construct a new office building in Misono, Toyohira-ku, Sapporo

April 1987

Open "Goma soba Tsuruki" Main Store in Misono, Toyohira-ku, Sapporo

June 2014

Change all store names from "Goma soba Tsuruki" to "Goma soba Yuzuru"

December 2018

Become a wholly owned subsidiary of Create Restaurants Holdings and change the company name from Hashimoto to Yuzuru Inc.